Story highlights
-Seven people are reported dead
-Several families report missing loved ones
Authorities are working to identify all the victims and will notify their families as soon as possible, Sevier County Mayor Larry Waters said.
He said he thinks the three latest victims were adults.
"All of us are praying for those families and are very distressed at the loss of life in this situation," Waters said.
Several others are said to be missing after the blazes scorched roughly 15,000 acres in a resort-heavy area of eastern Tennessee, which showered residents with embers and forced tourists to evacuate from their accommodations. More than 700 buildings were either damaged or destroyed in Sevier County and in the Gatlinburg city limits, Waters said.
The fires spread with little warning Monday from the Great Smoky Mountains into inhabited areas in and near the resort towns of Gatlinburg and Pigeon Forge. Waters said about 53 people were injured, and many of them have been released from the hospital.
James Wood's mother is among those missing.
Wood said his mother was telling him on the phone the wildfire that had roared into Gatlinburg had ignited her home.
Then he lost the connection. He hasn't heard from his mom, Alice Hagler, since Monday night.
"We had been talking for several hours on and off," Wood
told CNN affiliate WATE
on Tuesday night. He had been living with his mother at her Gatlinburg house for the last five months but wasn't home that night.
"She called me at 8:30 (p.m.) and said the house was on fire. I told her to get out immediately. We got disconnected and I have not been able to get in touch with her since," said Wood.
Hagler's relatives say they hope she might be taking shelter with someone and just hasn't been able to make contact. It's a hope echoed by several other families who say their loved ones in the Gatlinburg area are missing.
"Our search and rescue teams are going out house by house," Waters told CNN on Wednesday. "There's a few areas that we were unable to get to on Monday night because of the swift nature of the firestorm … and we're finishing those up today.
"Right now, search and rescue is our main challenge."
One of the bodies was found Wednesday in a burned motel, officials said.
A new structure caught fire Wednesday afternoon in Gatlinburg, Gatlinburg Fire Chief Greg Miller said. Authorities also continued to block Gatlinburg, from which about 14,000 residents and tourists were evacuated Monday.
The area could be helped by up to 2 inches of rain expected Wednesday into Thursday. But the stormy weather could also cause problems: Lightning strikes and winds — gusts up to 30 mph are possible Wednesday — could spark more fires, and the downpour could prompt flash flooding.
'Human caused'
The fires that reached Gatlinburg began days earlier on a trail in the mountains 10 miles south of the city, National Park Service spokeswoman Dana Soehn said. But strong winds that began Sunday helped the fire spread into the Gatlinburg area on Monday.
Investigators believe the trail fire was "human caused," Soehn said, without offering further information, but it's still under investigation.
Wildfires have burned in parts of the Southeast for weeks, fueled by the region's worst drought in nearly a decade.
Some major attractions such as the Ober Gatlinburg ski area and amusement park survived, but plenty of homes and other businesses were destroyed, and Gatlinburg residents have yet to be allowed back into the city to assess the damage.
While they wait, responders scramble to check more buildings, and families hope for news of the missing.
'I thought she'd be standing in the driveway'
Michael Reed
is desperate to find out what happened to his wife and two daughters, from whom he was separated on Monday night.
Reed and his family were in their Gatlinburg-area home when word spread that fire was burning out of control nearby. He and his 15-year-old son left in the family's only vehicle to see what side of the road the fire was on.
He told CNN that he got stuck in traffic as people fled. He received a panicked call from his wife, Constance, 34.
"She … said there were flames across the street from the house. I told her to call 911," he said. He rushed back to the home.
"The road was on fire and every house was engulfed in flames. I thought she'd be standing in the driveway."
Since then, he's been in a shelter in Pigeon Forge, trying to find out what happened to Constance and their daughters, Chloe, 12, and Lily, 9. He said authorities haven't been able to find them.
Memphis couple missing; sons injured
Also missing are Memphis couple Jon and Janet Summers, who were in the area with their three sons for a family getaway,
CNN affiliate WMC reported
.
The family appears to have been separated on Monday, and the sons were found unconscious, WMC reported. They were in a hospital on Tuesday.
Evacuees said they were forced to leave with only the clothes on their backs as fire surrounded their homes.
"There was flames everywhere," 52-year-old Gatlinburg resident Mark Benzschawel told CNN's Nick Valencia. "It was a firestorm."
Benzschawel said police banged on his door Monday night to wake him and his partner, Denise Bearden. The couple alerted their neighbor, who managed to escape with her dog.
'Solid wall of fire'
The fire destroyed a number of structures at Gatlinburg's Westgate Smoky Mountain Resort & Spa. Chris Turner, who works at the resort, posted
video of the damage to Facebook
— smoke drifted from burned-out vehicles and the buildings' charred remains.
Several emergency shelters opened to accommodate evacuees. At one time, about 2,000 people were staying in shelters in the area; 300 were in shelters Tuesday night, Waters said.
Authorities said they didn't know when residents would be able to return to evacuated neighborhoods. Some learned through news reports that their house was destroyed.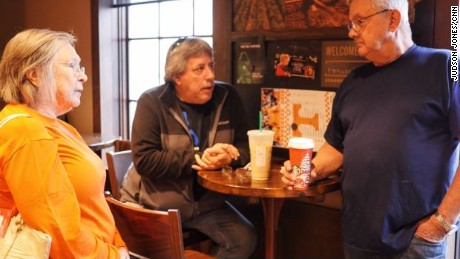 Among them were Tim and Shirley Morrison, who saw a picture of their house on the news. They'd been in their home, on a hillside above Ripley's Aquarium of the Smokies in Gatlinburg, when they saw the fire approach alarmingly fast.
"I was looking out our big windows and turned to my wife, and then turned back. It couldn't have been more than 30 seconds, and there was a solid wall of fire," Tim Morrison said.
They said they grabbed as many of their pets as they could, got in their cars and drove to safety. Three of their dogs and three of their cats made it with them; they don't know where four other cats are.
Some residents needed oxygen after inhaling smoke. School officials in Cocke and Sevier counties canceled classes for Wednesday.
Pigeon Forge is home to Dollywood, the theme park owned by singer and actress Dolly Parton. At Dollywood, officials with the Great Smoky Mountains National Park evacuated guests from its resort and cabins as flames approached the area. The park was not damaged.
In a statement, Parton said she was heartbroken about the fire damage and had been "praying for all the families affected."
"It is a blessing that my Dollywood theme park, the DreamMore Resort and so many businesses in Pigeon Forge have been spared," she added.
CNN's Artemis Moshtaghian reported from Gatlinburg; CNN's Jason Hanna and Max Blau reported from Atlanta. CNN's Darran Simon, Nick Valencia, Judson Jones, Madison Park, Sarah Aarthun, Saaed Ahmed, Amanda Wills, Keith Allen, Brandon Miller, Shawn Nottingham, David Williams, Chuck Johnston, Christine Sever, Dave Alsup, Jeremy Grisham, Phil Gast and Jennifer Gray contributed to this report.