In the lead-up to the show, Baldwin spoke with his wife, "Extra" correspondent Hilaria Baldwin, about what it's been like playing the president, who has been none too pleased with Baldwin's repeated mockery of him. But in Baldwin's view, what's strange about it is how little mocking he actually has to do.
"[One] thing I find that's so weird about the stuff we're doing: We're just repeating back what he says," he said. "Doing this is strange, but what is even more strange is [that] this is real."
Baldwin's view falls in line with many of the show's viewers, who have noted that the show has simply been able to use the president's scenes and lines from the week before as the basis for several cold opens.
After the third presidential debate, for example, "SNL" writers only had to make sure they included the night's Trump-isms ― lines like "bad hombres," "nasty woman" and "nobody has more respect for women than I do" ― and they could be assured a good sketch would come out of it.
The bizarre scenes set up by the president at times have also helped, as when the president held a press conference that involved one of his lawyers standing in front of an enormous pile of manila envelopes. The sketch really wrote itself.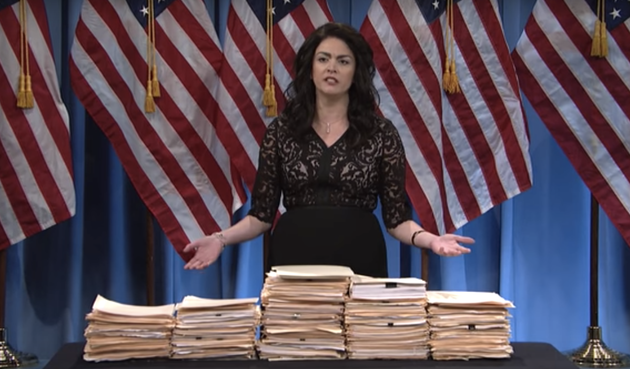 While Baldwin said he's enjoyed being a part of the "SNL" family this year, there have been parts of he's less-than enjoyed. Namely, trying to get inside the president's head. "Playing him is not a lot of fun," Baldwin said. "He's tense, he's angry, he's pissed off, and that's not fun to play."
Regardless, the so-called "Trump bump" has certainly helped "SNL" during Season 42. NBC told The Huffington Post earlier this week that this has been the most-watched season of the show in 22 years.