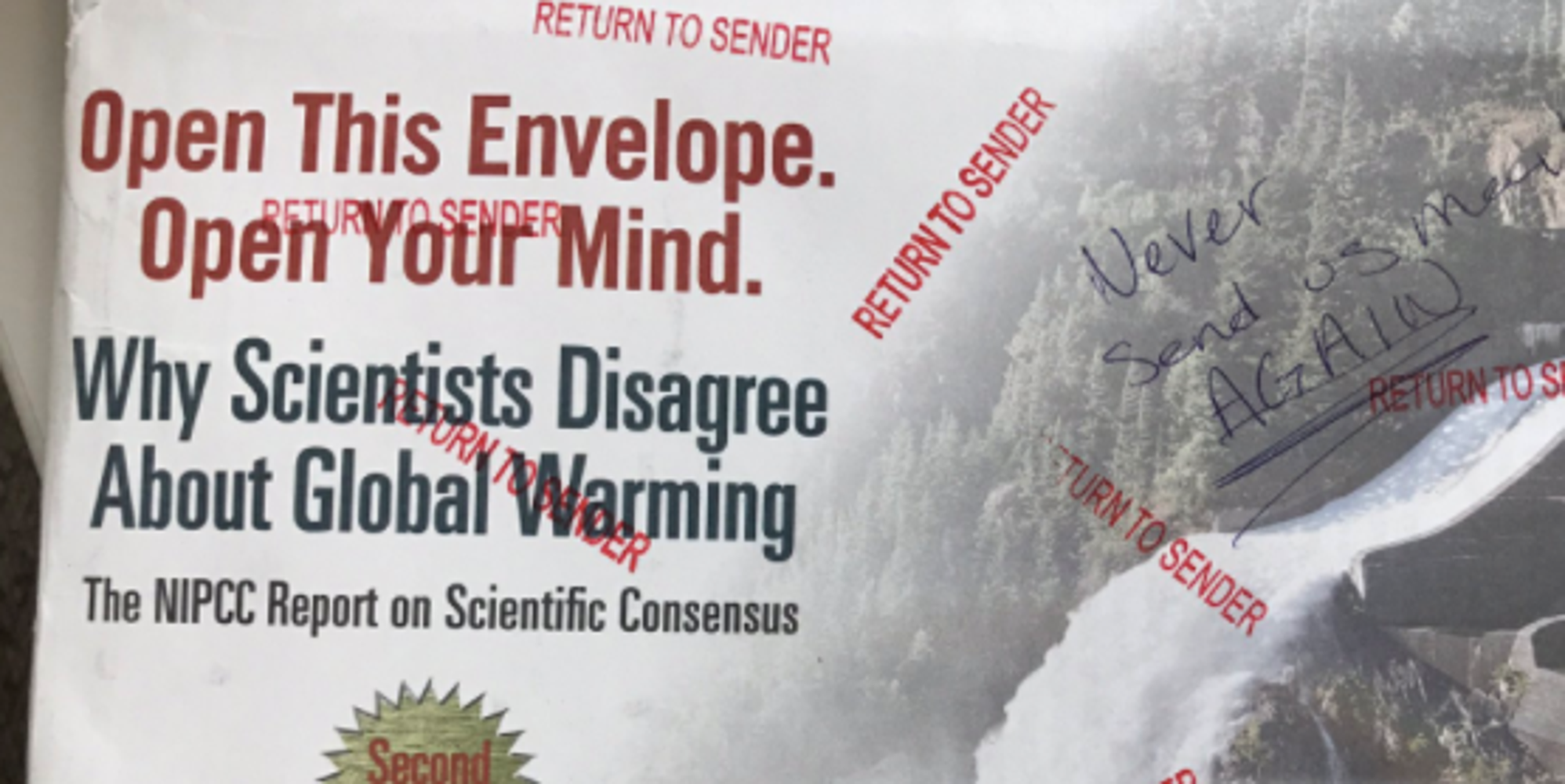 One of America's most prominent climate-denying groups, galvanized by the Trump administration listening to their claims, has set it sights on a new target: teachers.
The Heartland Institute, a conservative think tank that's become one of the loudest voices when it comes to climate denial, has sent more than 25,000 science teachers across the country a package of material it hopes they'll use in the classroom, according to a report from PBS Frontline. Alongside a note from Lennie Jarratt, the group's project manager for transforming education, the package contains a book called Why Scientists Disagree About Global Warming and a 10-minute video about using their guidance.
"I'm writing to ask you to consider the possibility that the science in fact is not 'settled,'" Jarratt says in the memo. "If that's the case, then students would be better served by letting them know a vibrant debate is taking place among scientists on how big the human impact on climate is, and whether or not we should be worried about it."
Jim Lakely, the Heartland Institute's director of communications, confirmed thousands of copies of the group's book have been sent out, and more are yet to come.
"The number put out by PBS Frontline might be low before it's all done. We'll see," he said in an email. "We're mailing out the material because the science is not 'settled' when it comes to what are the causes and consequences of climate change."
The packages have already drawn swift rebuke.
"It's not science, but it's dressed up to look like science," Ann Reid, the executive director of the National Center for Science Education told Frontline. "It's clearly intended to confuse teachers."
The National Council for Special Education published survey findings this month that 75 percent of public science educators devote time to teaching about climate change. But around 30 percent of the 1,500 teachers surveyed cast doubt on the cause, disputing scientific consensus about the phenomenon.
Some teachers expressed their dismay on Twitter at receiving the Heartland Institute packages:
Lakely said the group has been "meeting a demand" with the packages and that it's been "contacted by many teachers who've asked us for science-based materials that will help them tell their students the truth."
However, a Gallup poll published on March 14 found concern about global warming at a three-decade high, with 71 percent of Americans saying they believe the phenomenon is occurring.